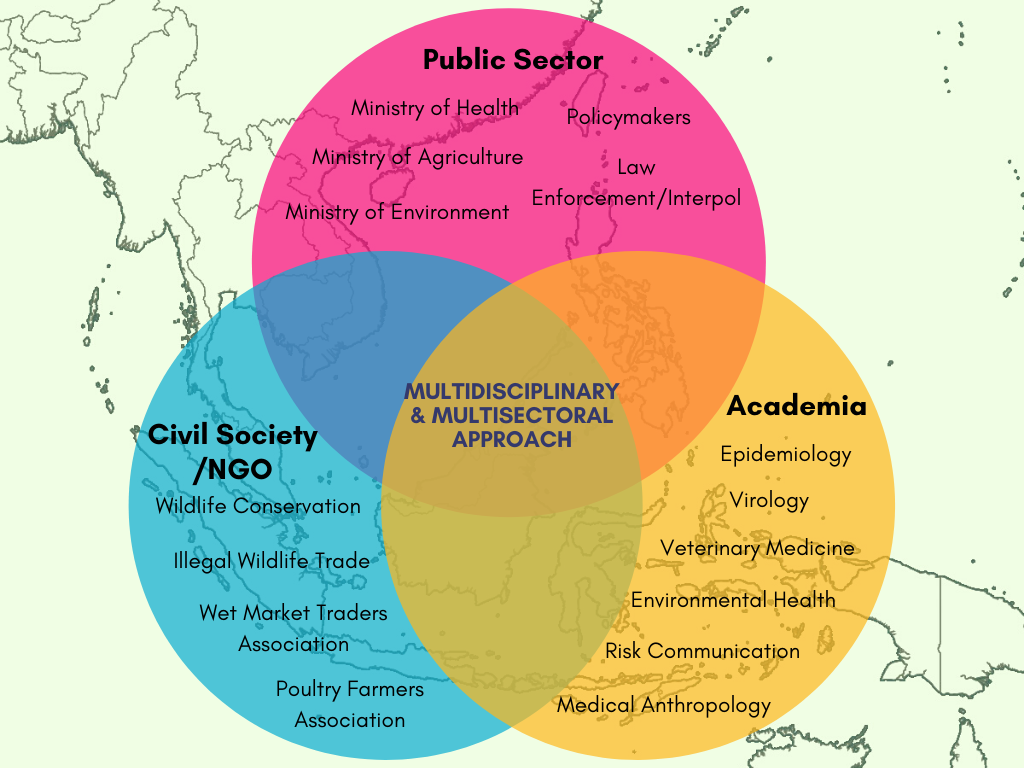 In 2021, the U.S. National Academies of Sciences, Engineering, and Medicine (NASEM) approached INGSA-Asia to co-organise a series of invitation-only workshops to explore ways to help prevent and mitigate the consequences of the zoonotic spillover originating in the live animal supply chain that involve the overlap between wildlife, other animal species, and humans.
The set of five workshops brought together the researchers, leaders, stakeholders, and policymakers from diverse backgrounds to develop resilient One Health strategies for zoonotic surveillance, response, preparedness, and prevention in countries across southeast Asia.
Following the workshops, NASEM, INGSA and workshop participants have generated a guidebook of best practice that hopes to:
enable increased engagement and coordination between stakeholders all along the live animal value chain
provide policymakers and regulators ideas for managing risks
identify measures for better predicting, mitigating, and managing the risks associated with zoonotic spillover.
With the Guidebook as a resource, INGSA and NASEM will work with Regional Partners to tailor aspects of the guidance to prevent and mitigate zoonotic spillover to meet specific country needs and circumstances.
Those supplementary materials will be available on the INGSA website.
Five online and in-person workshops were run to collate and synthesise the NASEM-INGSA Guidebook on Zoonotic Spillover.
The reports of those workshops are available below:
The project, Countering Zoonotic Spillover of High Consequence Pathogens (HCP), is funded and lead by the US National Academies of Science, Engineering, and Medicine (NASEM).
The project is locally managed by Project Officer, Hazel Yean Ru Ann, who is co-located with the INGSA-Asia office at Sunway University, Malaysia.
If you or your organisation are involved with the live animal supply chain in Asia, or have sectorial expertise in zoonosis, we encourage you to get in touch with the Project Officer and help us to operationalise and disseminate best practice in the field