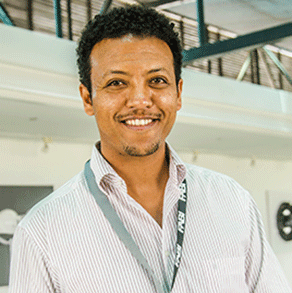 Dr Binyam Sisay Mendisu – Ethiopia
Project: The Role and Contribution of Scientific Evidence and Advice to transform a country at a crossroad: the case of Ethiopia
Scientific evidence and advice have a great potential to inform various policies that have implications to the political and socio-economic change of a nation. This project attempts to identify major challenges that hinder the usage of scientific evidence in Ethiopia, which has been going through a whirlwind of change over the last few months, in its strive for democratization, openness and accountability. The project will develop a methodology and a contextualized model for science advice for a country that is at a crossroad and going through serious social and political reform.
Ethiopia is one of the least-developed countries in Africa with a little more than 100 million citizens. Over the last decade or so, the country has been registering double digit economic growth mainly due to government-led investment on infrastructure and agriculture. The ruling coalition that has governed the country since 1991 is known for institutionalizing policies that led to the economic growth of the country, yet it has also been sharply criticized for restricting the political space and limiting freedom of expression. Three years ago these grievances reached all time high and led to protests, continuous political turmoil and violence in different part of the country. Having gone through volatile three years, the ruling coalition in April 2018 has chosen a new Prime Minister who is determined to open up the political space, fight narrow ethnocentrism, allow free media and who made promises to narrow the income distribution. Nearly 70% of the population is below the age of 30 and the economic situation left many of them jobless.
As soon as the new administration assumes power, it expressed its willingness and commitment to revise various regulations and policies that made the majority of people unhappy. The government has expressed interest and has shown openness to work closely with the scientific community. Accordingly, it has assigned various academics to cabinet positions and established various advisory committees/councils to revise restrictive regulations/policies. The level of openness and willingness that the government has shown to engage scientists and practitioners, and to closely collaborate with academic community is unprecedented in the country's history. Now that the opportunity has presented itself, the project attempts to understand if the country has any collaborative platforms and/or models that facilitate the engagement among policy makers, practitioners and academics. In particular, the study explores whether the opportunity to inform public policy with scientific evidence at this critical period in the country's history is seized by the academia and academic community. Moreover, the study investigates if the institutional capacity and methodology for providing scientific evidence to government already exists in the country. One also wonders to what level the current situation leads to institutionalization of scientific evidence in public policy formulation in the country in the future and proposes recommendation for a systematic integration of science advice in the work of government. The outcome of the project will be high-quality guideline for academics and policy makers, a policy brief, report on a scoping visit to Chief Science adviser in Quebec, Canada and group of mentees, conduct a capacity building training to early career academics and establishment of a network for young scientists on science advice for government.
Biography:
Binyam Sisay Mendisu completed his PhD in Linguistics from University of Oslo, Norway in 2008. Between 2008-2016, he taught full-time at Addis Ababa University and served in different academic positions. He is currently working as a program officer at UNESCO's International Institute for Capacity Building in Africa and as an adjunct associate professor of Linguistics at Addis Ababa University, Ethiopia.
He is the inaugural fellow, steering committee member and facilitator of the African Science Leadership Program (ASLP) based at the University of Pretoria, South Africa. In addition, he is a member of the Global Young Academy (GYA) and active member of the Science Advice working group within GYA, founding fellow and secretary of the Ethiopian Young Academy of Science (EtYAS) and current Next Einstein Forum (NEF) Ambassador for Ethiopia (2017-2019).
He received a certification of completion from INGSA following his active attendance of the African Regional Government Science Advice workshop in Kigali, Rwanda between 22-24 August 2018. In addition, at the international INGSA Science Advice conference, together with one of his GYA colleague and INGSA, he designed and facilitated a one-day pre-conference workshop on science leadership for science advice that ended successfully. His background in the academia is complemented with his recent experience working with policy makers in Ethiopia, Burundi and the Seychelles providing technical assistance in teacher policy development.