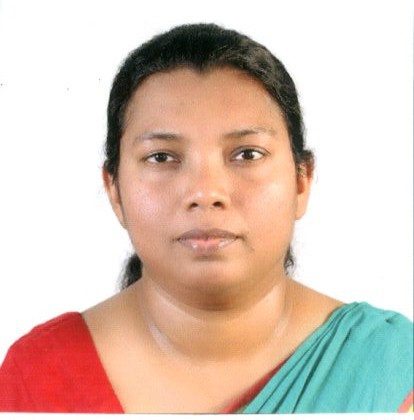 Mrs. D.P.P. Weerasinghe – Sri Lanka
Project:Scientific evidences and advice on drug supply control and demand reduction activities in Sri Lanka
The project will organize a two day scientific expert meeting on "Scientific evidences and advice on drug supply control and demand reduction activities in Sri Lanka" including a group discussion to formulate a guideline as "Science in Drug Control related Policies".
The expert meetings will discuss the potential scientific topics including Scientific technical cooperation and assistance for evidential and intelligence purposes, Utilization of scientific evidence in resolving complex drug related crimes by the justice system, Scientific approaches on drug supply control activities, Scientific analysis on prevention, treatment and rehabilitation process, Use of scientific data in health policy, Scientific evidences on situation assessment, trend analysis & results dissemination through early warning system, Scientific trainings and workshops on drug control capacity buildings, Advantages of scientific counsels and representations on the working groups/sub working groups, Importance of scientific recommendations on sustainable livelihood opportunities for rehabilitated individuals.
This will encompass a wide range of participants including the National Narcotic Laboratory scientific professionals, judicial professionals, drug law enforcement professionals and academic professionals, scientific professionals of other drug related government and non-governmental institutions, undergraduate final year students, Scientific representative from the United Nations Office for Drug and Crime(UNODC) and International Network for Government Science Advice (INGSA) representatives in the three day expert meeting including a group discussion and local guided tour for recreational group activities which are key to addressing the inequalities, formulating sustainable scientific communities, improving the coordination and corporation, will contribute to improve the scientific understandings for the national drug control and prevention policy and formulating a guideline for effective drug policy making, implementation, monitoring and evaluation while promoting as well as popularizing the maximum utilization of drug related scientific evidence through international networks .
Moreover, a side event will be organised for the undergraduate final year students with the objective of promoting drug related research in such a way that they will be encouraged through a mini poster session on drug related science during the final day of the expert meeting session. The selection committee composed of UNODC representative, INGSA member and related academic professional will finalize the scientific merit based posters and selected three candidates will also be awarded during the final day session before dinner banquet.
Project Results:
Workshop: Expert Meeting on Comprehensive, Balanced and Coordinated Scientific Strategy to counter Illicit Drug Trafficking, Prevention and Control of Drug Abuse – Colombo, Sri Lanka
Mrs Weerasinghe executed an extremely well attended meeting that has underpinned a range of proposed interventions to increase collaboration between the various stakeholders in national drug policy. Her workshop was attended by the President of Sri Lanka and the Ministers of the Ministry of Law & Order and Public Administration, Ministry of Justice and Prison Reforms and representatives of Ministry of Health, as well as other high-level officials.
On the back of this workshop, Mrs Weerasinghe's has driven the development of several ambitious projects, using the INGSA Research Associate Grant to undertake the foundational work to establish two large and long-term initiatives to deliver policy-relevant evidence directly to government: a National Laboratory Network on Analysis and Testing of Dangerous Drugs; and a Science, Technology and Innovation online platform to promote inter- and intra-agency collaboration. Her work has resulted in formal MOUs
As such, the results of the project will be long term but the prospects for these projects to reach fruition are good, if the attendance at her Expert Meeting is anything to go by.
Project Outputs:
Outreach / International Meetings:
2018:
Invited Panelist Intersessional meeting of UN Commission on Narcotic Drugs held in Vienna International Center, 27 September 2018

Day III: 27 September 2018 ||Cross-cutting issues: drugs, and human rights, youth, children, women and communities
2019:
Invited Panelist 62nd UN Commission on Narcotic Drugs 6th INTERSESSIONAL MEETING held on 6-18 October 2019

Day 3: 18 October 2019 ||2019 Ministerial Declaration challenge: Synthetic opioids and the non-medical use of prescription drugs pose increasing risks to public health and safety, as well as scientific, legal and regulatory challenges, including with regard to the scheduling of substances
Biography:
D.P.P. Weerasinghe is young scientific professional, currently working as Assistant Director (Scientific Research) of the National Narcotics Laboratory of the National Dangerous Drugs Control Board, Sri Lanka. Ms. Weerasinghe was graduated with an Honours Bachelors of Science degree in Chemistry from the University of Delhi, India in 2001 and finished Master of Science degree in Analytical Chemistry from the University of Peradeniya in 2004. Moreover, completed a Postgraduate Certificate Course in Advanced Organic Chemistry from University of Peradeniya in 2004 and followed a Postgraduate Diploma in Toxicology at University of Colombo in 2012. In addition to that she is a professional member of Medico Legal Society, Sri Lanka and Sri Lanka Association for the Advancement of Science (SLAAS) and successfully participated in the national, regional and international training events organized by International organizations such as United Nations Office for Drugs and Crime (UNODC), etc.
While employed at National Dangerous Drugs Control Board as scientific officer, Weerasignhe also demonstrated her exceptional scientific intelligence in the laboratory experiments and research activities, everybody especially impressed with her ability to get along with people especially with co-workers. Further, She communicates particularly well and is able to tailor the level of her message to any audience. Her written work is both clear and concise, as well as interesting to read. She is articulate and polite. She listens well to other people, being very supportive of them and their ideas.
Besides that, Weerasinghe's personal strengths are as impressive as her intellectual accomplishments. She is an active, outgoing presence with a great sense of humour. She is the perfect person to take responsibility to successfully plan and accomplish projects including cultural events. One of the impressive strength is that she is cheerful in nature and openness to feedback. This will ensure that she is always learning, and improving herself. During the senior position as Assistant Director, Weerasighe is being showed her exceptional research, communication and team working skills. She always strives hard to give best out of her and that always have met more than what was required. Weerasinghe's endless curiosity, combined with her willingness to take risks, leads others to believe there will be no limit to her growth and achievements in Sri Lanka and beyond.