Central Africa Workshop – Science Advice in Africa: Illusion or Opportunity – Cameroon 2019
Yaounde, CAMEROON: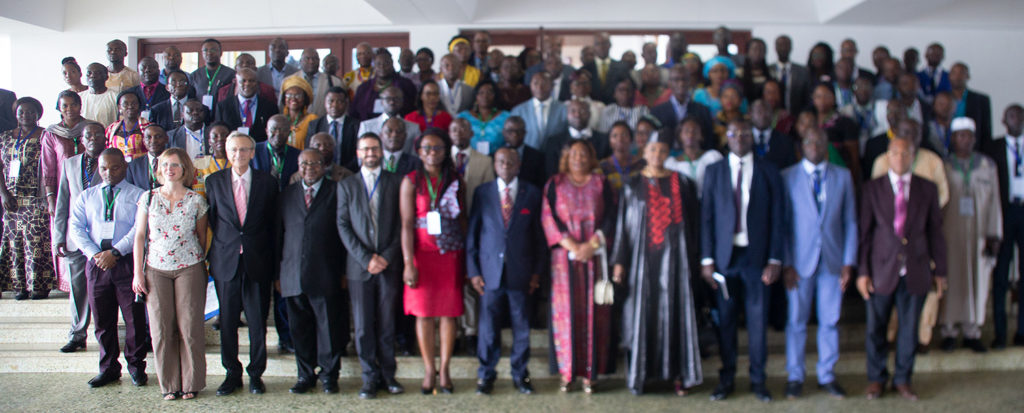 The Cameroon Academy of Young Scientists, in partnership with the Chief Scientist of Québec, Professor Rémi Quirion and the Fonds de Recherche du Québec (FRQ), INGSA-Africa and the Cameroon Academy of Sciences, with the support of the Ministry of Scientific Research and Innovation and the Ministry of Higher Education, held a Central Africa Sub-Regional Workshop on Government Science Advice from the 26th to 27th of August 2019 at the Yaounde Conference Center Hall, Cameroon.
The objective of this French-language workshop was to develop and reinforce the capacity of researchers, academicians, government members and civil society on the concept of Science Advice to Governments for decision making and implementation of Government evidence-based-practices.
More than 120 workshop participants from 11 countries (Tchad, Central African Republic, Congo, Burkina Faso, Côte d'Ivoire, Democratic Republic of Congo, Gabon, Niger, Senegal, Canada and Cameroon) attended including policy professionals, scientists from various fields and institutional representatives.
Activities included three plenary sessions:
Science advice in Canada and in Africa, animated by M. Clement Duhaime (FRQ), Prof Aminata Sall Diallo (Presidency Republique of Senegal), Prof Pierre-Francois Djocgoué (AUF), Dr Mbah David (Cameroon Academy of Sciences), M. Zacharie Ngoumbe (Economical and Social Council of Cameroon) and Dr Nzweundji Justine Germo (Cameroon Academy of Young Scientists);
Perspectives and impact of evidence on results-based management, animated by Dr Dimitri Sanga (Unesco West Africa), Prof Madiagne Diallo (Economical, Social and Environmental Council of Senegal), Mrs Danielle Nkama-Lacko (Economical and Social Council of Gabon), and M. Vincent Perrot (World Bank)
Science and Diplomacy animated by M. Etienne Baillargeon (Délégation Générale de Québec à Dakar), Prof Aminata Sall Diallo, M. Clément Duhaime, Dr Mbah David, Dr Pascal Moudi (SAWIDRA-AC).
Prof Aminata Sall Diallo also presented a communication entitled:" Science-policy interface: scientific evidence to inform public policies".
Participants also worked through three case studies that can be downloaded and used under a Creative Commons licence:
Kassemblé: integration of traditional techniques in education to fight  unemployment and poverty [Française]
Gonswana: food insecurity and new technologies [Française]
Midgaze: armed rebellion and social reintegration of ex-combatants [Française]
The opening ceremony was done by the Ministry of State, Ministry of Higher Education and the closing ceremony by the General Secretary of the Ministry of Scientific Research and Innovation. Research Institutions and universities and organizations mentioned above contributed or were represented as well as the embassy of Cameroon in Senegal, Canada High commission in Cameroon, PIDMA, CNDT, IMPM.