INGSA-Asia, Capacity Building Workshop – South Asia, Dec 2018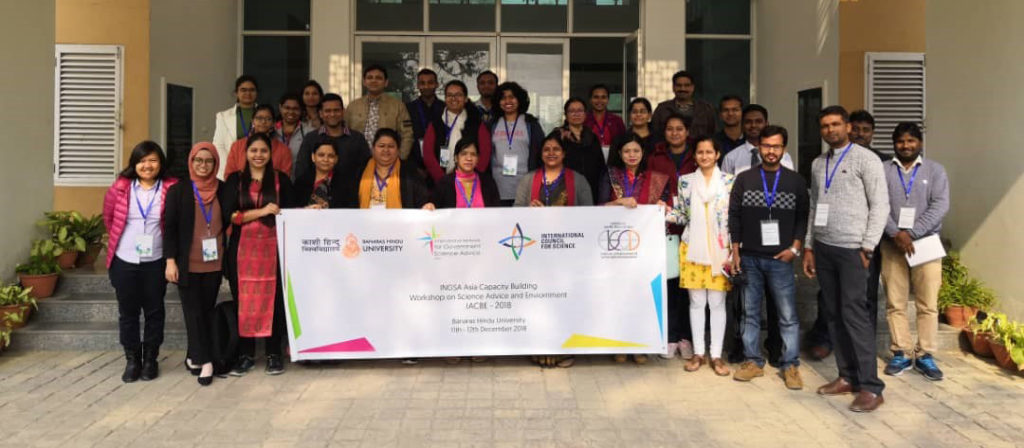 Varanasi, India: On the 11th and 12th December 2018, the inaugural INGSA South Asia Capacity Building Workshop was organised in collaboration with the Institute of Environment and Sustainable Development, Banaras Hindu University, Varanasi, India. The theme of the workshop was Science Advice and the Environment.
The programme was aimed at creating a platform to promote and strengthen capacity for science advice and ultimately build networks of science advice, specifically in South Asia.
Prof. Kavita Shah, the Steering Committee Member of INGSA Asia and faculty member at the Banaras Hindu University was the Chairperson of the organising committee. Participants of the workshop came from various countries in the region. Besides lectures on science advice, communication and current landscapes of policies and action plans in the region, participants also immersed themselves in the various INGSA case studies.
There was also a cultural night; where participants rode along the Ganges river which served as a perfect backdrop for discussions during the workshop. The Ganges river and Varanasi, with their rich cultural and historical significance, coupled with their own well-documented environmental battles provided an inspirational location for all of participants to appreciate the complexity and importance of effective science advice.
Thank you to the leaders of the Institute and Environment and Sustainable Development and Banaras Hindu University for being fantastic hosts to a productive workshop.