Digital Risk and Resilience: Security Challenges in the Digital Era – Lithuania, June 2019
Collaborators: Lithuanian Ministry of Foreign Affairs and its partners, the Embassy of the United Kingdom in Lithuania, and the Research Council of Lithuania.
Resources:
Principles of Science Advice & Understanding Risk Within that Context, presentation by Sir Peter Gluckman at INGSA Vilnius workshop June 2019.
Case Study: Vascovy: Emergency Response – Risk and uncertainty in a digital age – An INGSA Sufficiency of Evidence Case
Vilnius, LITHUANIA: On 4 June, an international conference "Security Challenges in the Digital Era: the Role of Science Advice" was held at the Palace of the Lithuanian Academy of Sciences. The event focused on the role of science in building resilience to various disruptive security challenges – for example nuclear, cyber, hybrid and technological threats.
The digital era has brought with it social media, the Internet of Things, and other new technologies that increasingly are changing the landscape of business, governance and public life. These developments have provided the world with countless benefits, but they also expose societies to new and complex challenges.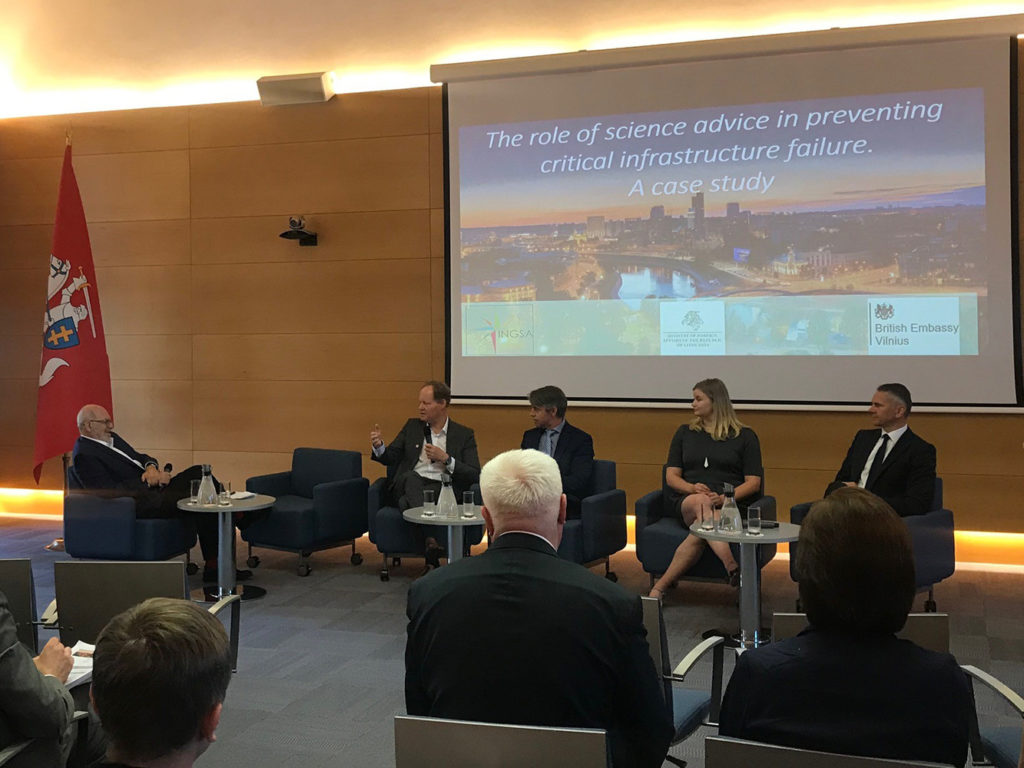 The conference discussed topics related to cyber warfare, gray zone tactics, abuse of Big Data, bots, applications of Artificial Intelligence, fake news, etc. In his opening speech vice-minister of Foreign Affairs of Lithuania remarked: "Given our rather hostile geopolitical environment, Lithuania, together with other countries from the Baltic region, have to deal with emerging security challenges on a daily basis. To us, evidence-based policy making is a requirement and not a 'nice-to-have'."
Therefore, the aim of this conference was to understand the new challenges and discuss how evidence-based science advice can help societies become more resilient. Attracting over 100 representatives from academic, research and governmental agencies, this conference contributed to the growing professional and societal awareness and discussion on this critical topic. It enabled interdisciplinary dialogue on the practice and place of science advice in policymaking.
The conference speakers included Professor Sir Peter Gluckman, President-elect of the International Science Council, and Chair of the International Network for Government Science Advice, and Dr. Vaughan C. Turekian, Executive Director of the Policy and Global Affairs Division at the U.S. National Academies of Sciences, Engineering, and Medicine. The conference brought together experts and specialists from Poland, Latvia, Lithuania, the United Kingdom, the European Commission, and NATO.
On 5 June, the Foreign Ministry also held a closed session with a simulated radiation accident scenario for officials from Lithuanian state institutions. Participants were offered the opportunity to share their insights into the role of science and evidence in the risk evaluation of complex situations, precaution in public policy and governance of systemic risks.
This International Network for Government Science Advice event was organized in cooperation with the Ministry of Foreign Affairs and its partners: the Embassy of the United Kingdom in Lithuania, and the Research Council of Lithuania.