Ciencia y Parlamento: Legislation Informed by Evidence Webinar – Español – Feb 2021
Watch the Full Webinar [9 hours]: https://www.youtube.com/live/ppMXJ6lAwL0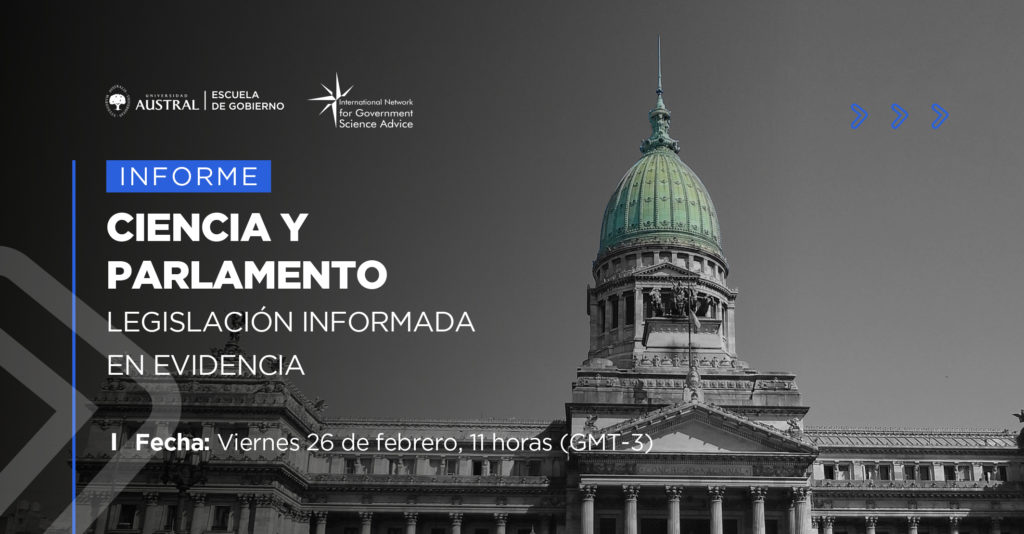 Ciencia y Parlamento: Legislación informada en evidencia
Presentation of the results of a research study to evaluate the opportunity, merit and convenience for the establishment legislative science advice (LSA) services in Argentina. The study was developed following the guidelines and methodologies of UK POST.
……………………………………………..
Date: Friday, February 26th 2021 – 11 am Buenos Aires (2pm GMT )
Mode: Online, vía streaming.
The complete webinar: https://bit.ly/3bZiJGP 
INGSA-LAC's presentations on Comparative Experiences in Latin America: https://youtu.be/ppMXJ6lAwL0?t=10628
Detailed schedule: Click Here
Organisers:
Centro de Estudios, Investigación y Prospectiva Parlamentarios de la Escuela de Política, Gobierno y Relaciones Internacionales de la Universidad Austral.
• International Network for Government Science Advice (INGSA) Red Internacional para el Asesoramiento Científico a Gobiernos. Capítulo de Latinoamérica y el Caribe.
Sponsors:
Círculo de Legisladores de la Nación Argentina (CLNA).
PARTICIPANTS:
Oficina del Diputado Nacional José Luis Patiño.
Oficina de la Senadora Nacional Lucila Crexell.
Alfonso Santiago: Director de la Escuela de Gobierno de la Universidad Austral
Carlos Abeledo: Presidente del Capítulo de Latinoamérica y el Caribe de INGSA International Network for Government Science Advance
Daniel Basile: Presidente del Círculo de Legisladores de la Nación Argentina (CLNA)
Juan de Dios Cincunegui: Coordinador del Equipo que realizó el Informe.
Sofía del Carril: Escuela de Gobierno. Universidad Austral
Sarah Foxen: Knowledge Exchange Lead, UK POST Parliamentary Office of Science and Technology
Fotis Fitsilis: Head of the Department for Scientific Documentation and Supervision Scientific Service of the Hellenic Parliament
Chris Tyler: Associate Professor in Science Policy and Knowledge Infrastructure University College London (UCL)
Lorenzo Melchor Fernández – Emilia Aiello: Ciencia en el Parlamento. España
Alma Cristal Hernández Mondragón: INGSA México
Guido Williams: Asesoría Técnica del Congreso de Chile
Soledad Quiroz Valenzuela: INGSA Chile
María Estela Jarquín: INGSA Costa Rica
Moisés Benamor: Entidades Representativas. Organización de Estados Americanos (OEA)
José Luis Patiño: Diputado Nacional. Comisión de Ciencia, Tecnología e Innovación Productiva. Honorable Cámara de Diputados de la Nación
Silvia Lospennato: Diputada Nacional. Vicepresidenta 1ª de la Comisión Especial Modernización del Funcionamiento Parlamentario Honorable Cámara de Diputados de la Nación
Lucila Crexell: Senadora Nacional. Miembro de la comisión de Ciencia y Tecnología del Honorable del Honorable Senado de la Nación.
Lino Barañao: Ex Ministro de Ciencia, Tecnología e Innovación Productiva de 2007 a 2019
Nicolás Di Sbriovacca: Presidente de la Fundación Bariloche Conjuntamente
con Adrián Monjeau y Pedro Laterra del CONICET
Agustín Campero: Ex Secretario de Coordinación y Articulación Científico Tecnológica de la cartera de Ciencia, Tecnología e Innovación
Marcelo Bosch, Gerente de Fortalecimiento de la I+D+i del Instituto Nacional de Tecnología Agropecuaria (INTA)
Rodolfo De Vincenzi: Presidente del Consejo de Rectores de Universidades Privadas de Argentina (CRUP)
Águeda Menville: Ex Directora de RRII del Ministerio de Ciencia y Tecnología (MINCYT).
Lucas Luchillo: Ex Subsecretario de Evaluación Institucional de la cartera de Ciencia, Tecnología e Innovación.
Eugenio Inchausti: Ex Secretario Parlamentario de la Honorable Cámara de Diputados
Juan Pedro Tunessi: Ex Secretario Parlamentario del Senado. Prosecretario Parlamentario del Senado
Mercedes Piscitello: Secretaria Parlamentaria Bloque PRO Diputados
Ignacio Otero: Secretario Parlamentario Bloque UCR Diputados
Agustín Bertuzzi: Secretario Parlamentario Bloque CC Diputados
Marcos Makón: Director Ejecutivo de la Oficina de Presupuesto del Congreso (OPC)
Jesús Rodríguez: Presidente de la Auditoría General de la Nación
Juan José Böckel- Julieta Ghioldi: Defensor del Pueblo de la Nación
Marcelo Muscillo, Director General del Círculo de Legisladores de la Nación Argentina (CLNA)
José Luis Riccardo: Diputado Nacional. Presidente de la Comisión de Ciencia, Tecnología e Innovación Productiva. Honorable Cámara de Diputados de la Nación
Graciela Camaño: Diputada Nacional. VP2. Comisión de Modernización de la Honorable Cámara de Diputados de la Nación.
Flavia Morales: Diputada Nacional. Comisión de Ciencia, Tecnología e Innovación Productiva. Honorable Cámara de Diputados de la Nación
Carlos Selva: Diputado Nacional. Presidente Comisión de Biblioteca del Congreso. Honorable Cámara de Diputados de la Nación.
Luciano Laspina: Diputado Nacional. Comisión de Ciencia, Tecnología e Innovación Productiva. Honorable Cámara de Diputados de la Nación.
María Barón: Directora Ejecutiva Global de Directorio Legislativo