Science Advice Workshop, Ocean Conference – Oman, February 2019

INGSA at the 2019 Ocean Economy & Future Technology Conference – Oman
As part of the 2019 Ocean Economy and Future Technology conference on the 11-13th February, INGSA hosted a very successful high-level evidence-to-policy dialogue with almost 60 senior representatives from the Omani government, academia and industry. The workshop was attended by a large number of Under-Secretaries and Heads of Department from across the ministries, as well as CEOs, Deans of academic schools and professors across a range of disciplines.
Participants were highly engaged and were keen to address the difficult questions they had, making for an excellent and challenging discussion around the role of science advice in the region.
These discussions were facilitated by presentations from: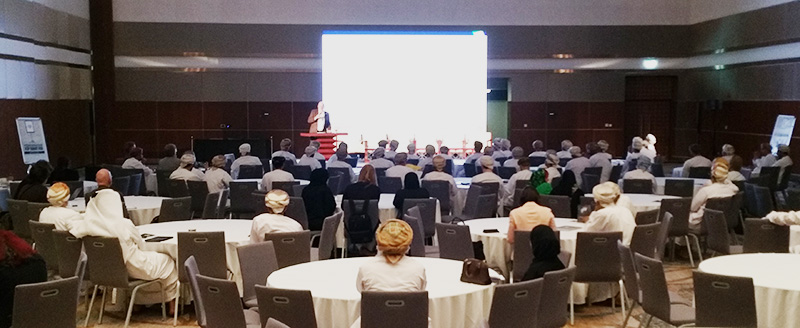 INGSA would like to the thank the International Forum Science and Technology Diplomacy (IFSTD) for their invitation to attend the conference, and for their excellent work organising so many high-level attendees to be at the workshop. There were a number of good outcomes from the meeting and the conference that will hopefully underpin ongoing work between INGSA, the region, and with Oman in particular.
Science Diplomacy at the Ocean Economy and Future Technology conference
INGSA would also like to applaud IFSTD for placing the topic of Science and Technology Diplomacy at the very heart of their Ocean Economy and Future technology conference. It was great to see an understanding that Science Diplomacy between nations is indispensable when developing transnational collaborations, such as will be required to achieve a Sustainable Blue Economy for countries in the region.
IFTSD did a wonderful job of making sure that the role of science and science advice was embedded in all discussions about new technologies, ethical business practices, international collaboration and informal governance of the 'ungoverned spaces' like the deep ocean. Oman should be congratulated for taking a lead on combining the practical economic aspects of the Ocean Economy with the necessity for evidence-informed, collaborative agreements and regulation to ensure a sustainable and healthy ocean.
As part of the conference, INGSA was called upon to provide much of the framing discussion on Science Diplomacy, with a number of FMSTAN and SPIDER members presenting, including Sir Peter Gluckman, Dr Vaughan Turekian, Dr Bill Colglazier, Prof Paul Berkman and others.