Keynote – Dr Soumya Swaminathan
Online Conference
9th September 2020
With Covid-19 affecting every aspect of life and governance, the pathways between science, policy and society were exposed and scrutinised like never before.
In Sept 2020, INGSA coordinated a global event to begin to look at how readily and effectively the world was using evidence to inform the pandemic response – the good, the bad, and the ugly
Global Week of Dialogue Keynote – 9th September 2020
Dr Soumya Swaminathan
INCLUDING: An introductory message from INGSA partner and IDRC President, Jean Lebel
INGSA is proud to present a Keynote discussion between the Dr Soumya Swaminathan, the Chief Scientist at the World Health Organisation, and Prof Rémi Quirion, the Chief Scientist of Québec.
The WHO has been vital to every element of the coronavirus pandemic – their expertise and data have permeated all elements of governments' responses, they have been praised and maligned, accused of having too much power as well as not enough. Yet no organisation has been as important in how the world reacts to pandemic as the WHO.
That is why INGSA is so excited to be able to sit down one-on-one with Dr Swaminathan to find out some of what it has been like inside the WHO during the pandemic, and what the key lessons and challenges have been.
Biography: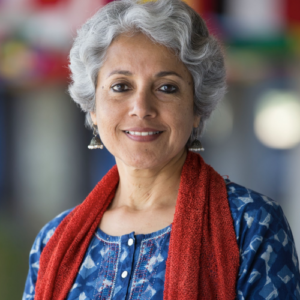 Dr Soumya Swaminathan was most recently WHO's Deputy Director-General for Programmes. A paediatrician from India and a globally recognized researcher on tuberculosis and HIV, she brings with her 30 years of experience in clinical care and research and has worked throughout her career to translate research into impactful programmes. Dr Swaminathan was Secretary to the Government of India for Health Research and Director General of the Indian Council of Medical Research from 2015 to 2017. In that position, she focused on bringing science and evidence into health policy making, building research capacity in Indian medical schools and forging south-south partnerships in health sciences. From 2009 to 2011, she also served as Coordinator of the UNICEF/UNDP/World Bank/WHO Special Programme for Research and Training in Tropical Diseases in Geneva.
She received her academic training in India, the United Kingdom of Great Britain and Northern Ireland, and the United States of America, and has published more than 350 peer-reviewed publications and book chapters. She is an elected Foreign Fellow of the US National Academy of Medicine and a Fellow of all three science academies in India. She has previously been on several WHO and global advisory bodies and committees, including the WHO Expert Panel to Review Global Strategy and Plan of Action on Public Health, Innovation and Intellectual Property, the Strategic and Technical Advisory Group of the Global TB Department at WHO, and most recently was Co-Chair of the Lancet Commission on TB. [Biography from the World Health Organisation website]